Fiber Glass Sleeving
These tubes are reinforced with non-alkaline glass braiding, coated with silicone. Main applications include electric and thermal insulation and protective housing for household appliances, industrial equipment, transportation equipment, measuring instruments, and atomic power devices. With excellent heat resistant and mechanical properties, it can be used at 180℃ variations are available to meet UL specifications.
Braid Sleeving
Feature
Braid Sleeving

Silicone vanished fiber glass sleeving
UL&CSA Standard Products

Abbreviation
Braid Sleeving

Silicone vanished fiber glass sleeving : SSG-1・2・3
UL&CSA Standard Products : ESG-1U

Feature

Superior heat resistant, can be used continuously at 180℃
Mechanical strength and are used as a protective layer.
Standard size are diameter 0.8~20mm, but larger size are also available
Very Supple
Most suitable for Thermal insulation or insulation protection
Standard colors is white, but other color such as red, green, yellow, brown, black etc. also available.
Excellent for heat resistant and low price tube.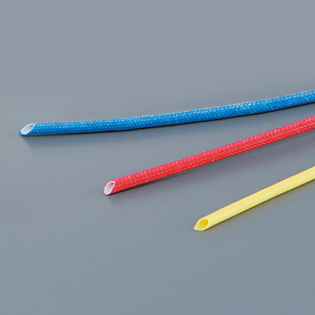 Check our web catalogs for more information Fiber Glass Sleeving.
Products designed and manufactured upon customer's requirements.
Please do not hesitate to contact us for more information.