Pressurized Roller (Combination of Fluorocarbon polymer and Silicone Rubber)
Pressurized Roller (Combination of Fluorocarbon polymer and Silicone Rubber)
Feature
Roll with combination of Fluorocarbon tube and silicone rubber.
Recently, the demand of high durability is increased due to maintenance fee. The fluorocarbon resin coating pressure roller which combines the silicone rubber, have high endurance, receive attention with high mold release characteristic. Because all processes of the core and the fluorocarbon resin tube etc were changed to in-house manufacturing, it can meet customer's requirement. Material hardness the 5~40 (JIS A type) is possible.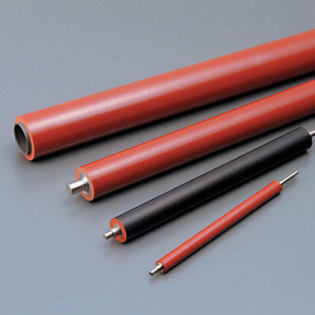 Products designed and manufactured upon customer's requirements.
Please do not hesitate to contact us for more information.