Pipe Insertion Heater
This product is formed by coiling resistance wire around a glass core, adding silicone rubber insulation and sealing in a pipe. Both aluminum pipe and copper pipe of two types are available. Maximum temperature is 180℃ and electric density is 40W/M or less. Both pipe ends are molded, making for excellent in the water and the moisture resistance and used for defrosting coils for refrigerators.
Pipe Insertion Heater
Product Name

Copper Pipe Heater
Aluminum Pipe Heater

Abbreviation

Copper Pipe Heater : PSRHC
Aluminum Pipe Heater : PSRHA

Features

Core heater inserted metal pipe product.
Fixable shape by metal pipe.
Excellent in the heat distribution.
Excellent in the water distribution.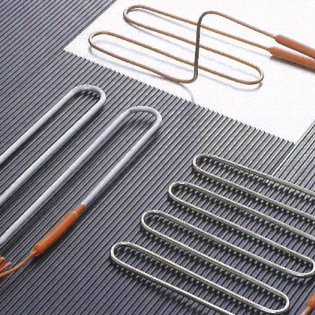 Check our web catalogs for more information Pipe Insertion Heater.
Products designed and manufactured upon customer's requirements.
Please do not hesitate to contact us for more information.